Skip to Content
Receive a Hearing Evaluation from World of Hearing
Free Hearing Screening
Our audiologists have studied all the most modern techniques to help with preventative and restorative efforts for your hearing. World of Hearing begins all treatment by administering a hearing evaluation to all patients facing troubles with their hearing. These tests normally take about 60-90 minutes and are painless. We can measure your hearing capacity much more precisely than family physicians; therefore, our hearing evaluations are far more thorough and helpful.
The purpose of our hearing test for hearing loss is to determine the severity of your hearing loss and also define the specific type of hearing loss that you have. A thorough hearing test can also help define the type of hearing loss you have: conductive, sensorineural or mixed. Because of this test, we will be able to develop the best, personalized medical treatment needed or determine if it can be helped with the use of hearing aids.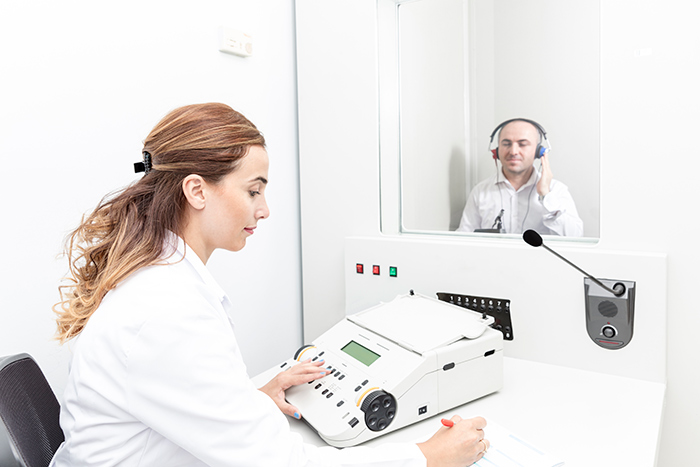 Hearing Evaluation Process
While you are visiting World of Hearing for your hearing evaluation, we also obtain your hearing health and medical history. There are many different causes for hearing loss and getting your personal and medical history can help determine and narrow down the cause for it.
Hearing and Medical History
Your family's genetic history can lead to your hearing loss or difficulties. Contributions to your hearing loss could come from medical conditions such as; allergies, head colds, ear infections or even impacted earwax. World of Hearing will ask if you've experienced any trauma to the head or ear structures recently. Any kind of injury to the cranial area can result in temporary or permanent hearing damage. Exposure to loud noises can also contribute to your hearing loss, especially if you are surrounded by them daily. We will go over these exposures to help find the cause of your hearing loss and how we can treat it properly.
Visit us at World of Hearing today to see how we can help determine the cause for your hearing loss and how to properly treat it with medical or technological solutions.
Hearing Services in Hallandale Beach, FL